The construction company AS YIT Eesti uses the Waybiller software for digital waybills on the sites of the joint Baltic project Rail Baltica. Rail Baltica connects Estonia with the countries of Central and Western Europe and provides passengers and goods with an additional new, fast and modern opportunity to move from north to south and vice versa.
Rene Oese, the representative of YIT Eesti, brings out the main perks:
It's easy to generate reports: it's easy to monitor load overweight and volumes
The biggest win is time – the weekly report can be downloaded with a few clicks and the result is not comparable to manual paperwork
Unexpectancies on the sites – real-time overview gives confidence that work is going smoothly on the site
 "Trust, but verify"
AS YIT Eesti is one of the leading construction companies in Estonia, which belongs to the largest construction services group in Finland, YIT, and has been operating since 1991. Its main areas of activity are the development and construction of apartments, commercial and mixed areas, as well as infrastructure construction. As a leader in infrastructure construction, YIT constructs roads, bridges, railways, ports and other facilities in Estonia. YIT Estonia is currently building an ecoduct and viaduct for the Rail Baltica project, using Waybiller e-waybill software to keep track of material quantities.
In the case of such a large project, all kinds of surprises can up. Rene Oese, the representative of YIT, says that the real-time overview gives assurance that the project is going smoothly. "Trust, but verify" is a sentence that comes out of his mouth quite a few times.
Like most companies in Estonia, YIT used paper waybills before Waybiller. YIT Estonia uses e-waybills in two projects: Rail Baltic and TEN-T transit road reconstruction in Narva. However, there's already positive feedback on digitized waybills halfway through the projects. The e-waybill leaves a track for all parties and, unlike paper, it cannot be "lost". Rene admits that paper waybills are still used, but rather rarely and usually for control purposes.
Rene says that saving time is the biggest win – you don't have to rummage through a big pile of paper and run your finger down a list to get a weekly summary, as you can conveniently extract reports from Excel. In addition, it helps keep good relations with the supervisory authorities. The data is transmitted to the civil engineer, as an overview of the weight and volumes of the cargo is available in real-time. There's nothing to fear if things are in order.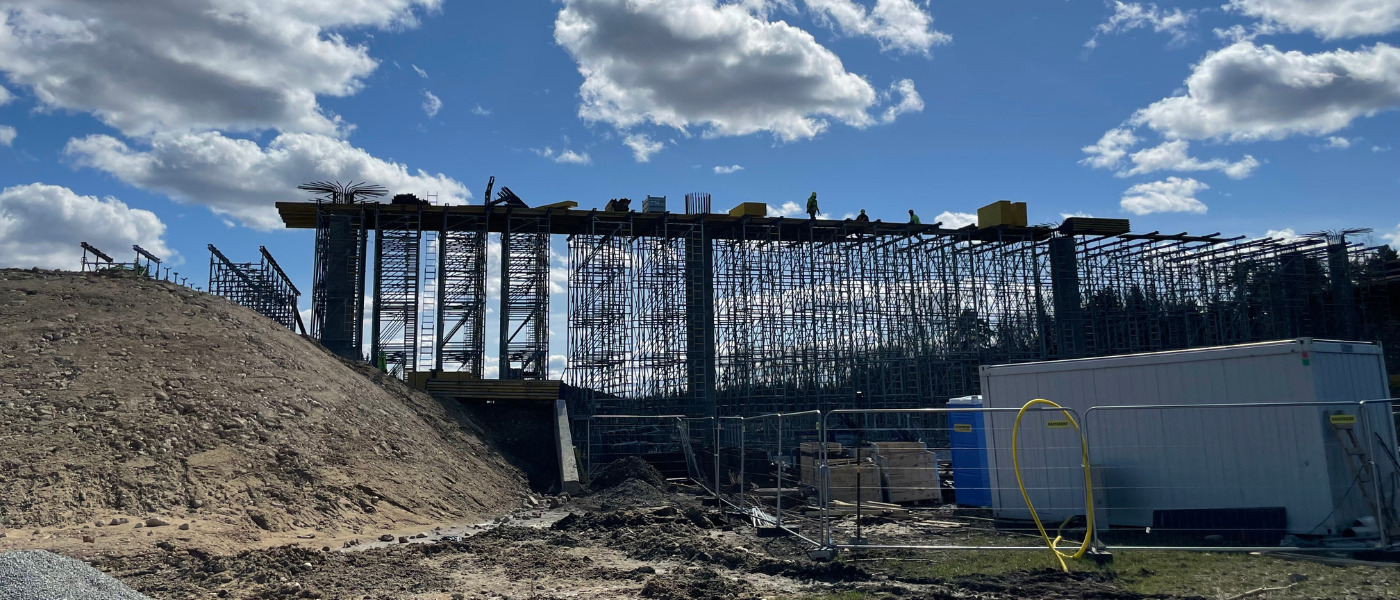 Construction of YIT and Rail Baltica ecoduct
The future could be fully digital
Rene's right hand on sites is the backhoe loader driver. He's an irreplaceable person, whose eyes must grasp what's going on in site even when there's a force majeure situation going on. There are many ways to make the job a little easier. For example, integrating with the scale would help keep on top of the site. Eesti Killustik, Estonia's largest mining company, is a good example because it offers its customers an efficient and paperless service in all fully digital quarries. According to Rene, scale integration would make the job easier.
In this case, the obstacle is rental equipment on site. Following the example of Eesti Killustik, equipment rentals could also integrate their loaders with the Waybiller system so that the numbers in the reports would be even more accurate. Everyone would win from this – the construction supervisor and the project manager don't have to worry about volumes and overweight and the equipment rental will have an advantage in the market with the Waybiller integration.
But not everyone is a fan of digital transport. It's said that the biggest resistance to digitalisation comes from freight companies. Rene has heard the phrase "If you have Waybiller, I'm not coming to your site," more than once. On further discussion, however, it becomes clear that it's not a matter of defiance but fear. Who is more price-sensitive, who is unfamiliar with technology and so on. Fully autonomous terminals in quarries, ports and construction sites would improve the situation. For the driver, this would simply mean driving on the scale, picking up the load at the point of departure, driving to the destination and confirming the delivery. Rene says that quarries could communicate directly with Waybiller so that the driver wouldn't have to enter anything.
Towards a green environment
Rail Baltica is an electrified railway, which means that rail travel leaves a smaller ecological footprint than travelling by car, bus, ship or plane. One of Rail Baltica's goals is to reduce air pollution in the transport sector, as part of the freight and passenger traffic moving on the roads moves to electrified rail.
In 2019, the construction of the main objects of the railway line was started. The construction of the railway is expected to be completed by 2029, and traffic will start on the new railway in 2030. Rail Baltica is an investment in green transport, but also an innovative way of thinking and an energy-efficient way to travel and transport goods to Europe.
YIT is the first Finnish construction company to commit to reducing emissions from its operations and value chain based on its science-based goals initiative. Its mission is to create better-living environments. In terms of environmental criteria, YIT is committed to the Science-Based Targets (SBT) initiative to keep global warming below 1.5 degrees under the Paris Agreement. This continues their previous work on climate causes and helps set more comprehensive goals, by also reducing their customers' emissions.
Waybiller was founded in 2019 by a team of Thorgate developers and business consultants. Waybiller offers logistics companies a digital waybill solution, making freight truly paperless. The software allows companies to shift from paper waybills to e-waybills, resulting in lower costs and greater transparency. Electronic waybills increase efficiency and give a competitive advantage to all parties involved in the shipment (sender, carrier, receiver).
If you want to digitize your company's waybills or integrate them with weighing systems, feel free to contact us at waybiller@waybiller.com or call +372 606 8120.