Waybiller has been helping leading transport companies all over Estonia to make generating and managing waybills as cost and time efficient as possible. Companies that use Waybiller already have their handling charges up to three to four times lower, administration much faster and fewer delivery and reception discrepancies. By moving to an electronic format, the three parties involved in each shipment (shipper, carrier, receiver) benefit from the increased overall efficiency of logistics, resulting in increased economic competitiveness.
As we try to make the transport processes easier, we ensure that using Waybiller is efficient and easy. If you switch to E-waybills with Waybiller, you'd have to understand our pricing model.
Our pricing model is clear, accessible, and flexible – it is possible to change the package or cancel a subscription at any time, as long as you let us know about the changes in advance.
How to make the right choice and not overpay for the innovative e-waybills software?
Transportation Companies
To start, it is worth noting that packages differ for transportation companies, senders and recipients of goods. The largest selection of pricing packages is available for transportation companies. You can see free, basic and advanced packages among the available packages. Here's a comparison between the three:
The Team package allows you to use all minimal features* to start generating e-waybills. You can create new e-waybills, track the locations of vehicles, and store the data in the system.
However, with the free package, you can not create and download reports. The free package also doesn't cover the feature that allows you to send a copy of the e-waybill or create invoices using them.
The Pay-as-you-go package includes all available services, such as generating invoices at only €0.5 per invoice. The box allows you to download, redirect and edit waybills. If necessary, we can create an individual integration that will enable you to turn waybills information to your accounting systems when needed. Integrations simplify the billing process and eliminate manual data entry.
The Professional package is an excellent solution for companies with a large fleet of vehicles. With this package, all of Waybiller's services will be available to you, and if necessary, we will also create a custom integration with the accounting software you use. The package is intended for transport companies with a significant traffic turnover and many waybills. The fee is charged for each vehicle added to the system, i.e. 20€ per month per vehicle. The number of invoices you can generate is unlimited.
*All packages include the following minimal functions:
– tracking the location of vehicles in real time,
– managing origins and destinations,
– managing drivers and vehicles
– generating and managing waybills
For Professional and Pay-as-you-go packages, we also provide full client support; for a Team package, support services are limited.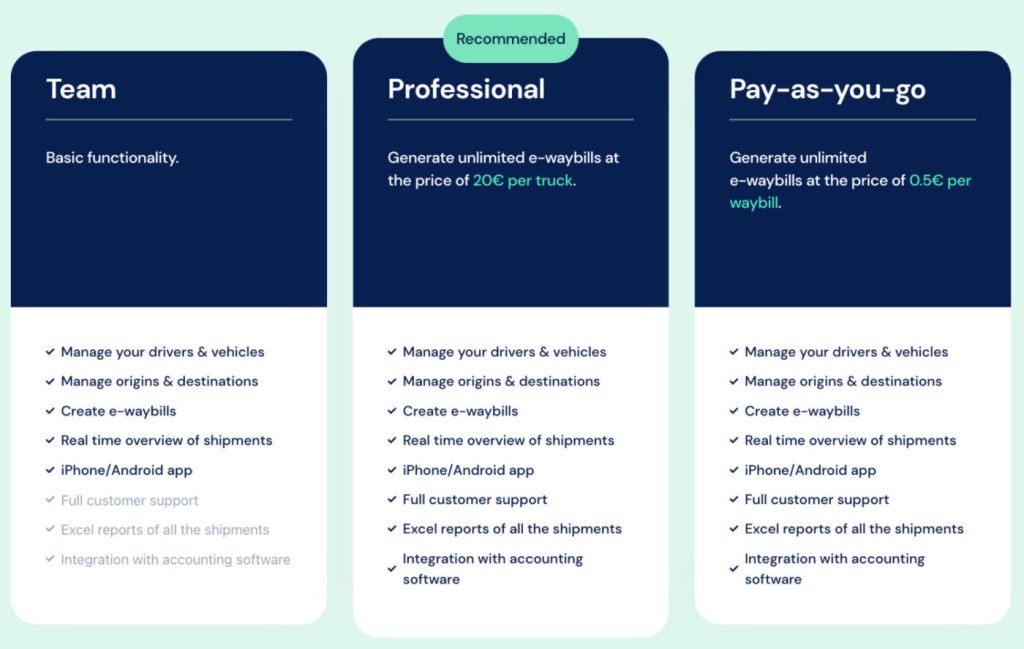 Product Receivers
Here are the packages available for product receivers:
The team package is intended for companies that generate no more than 3,000 e-waybills per month. This is priced at €600 per month.
The enterprise package is a solution for companies whose turnover is high and the number of e-waybills per month exceeds 3,000. This package is priced at €1200 per month.
Product Senders 
Product senders or shippers can use Waybiller's electronic waybill system for €300 monthly fee + 50 EUR per scale connected to Waybiller.
We have also upgraded packages for integrated clients and priority clients.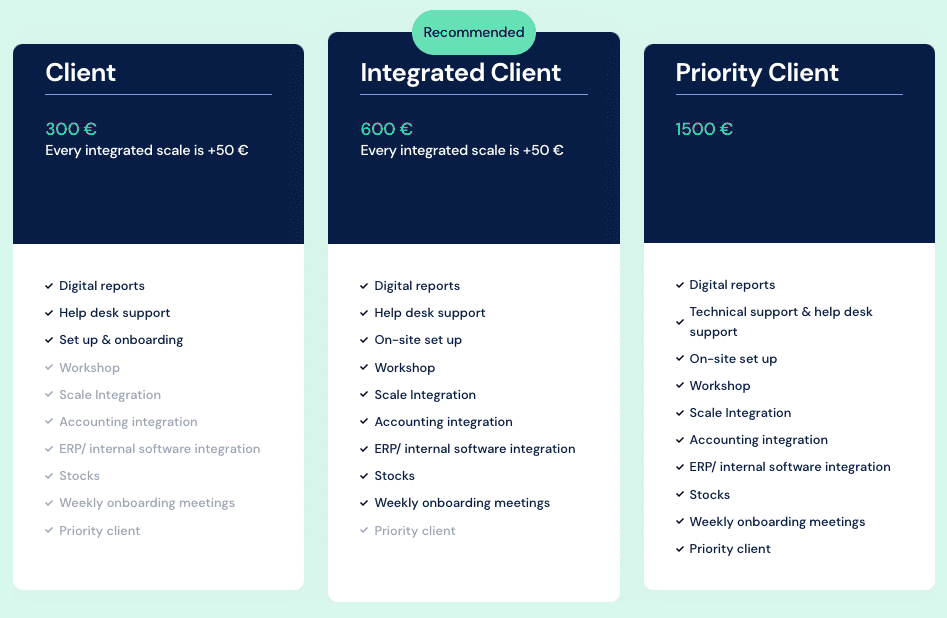 Read more about our pricing model here.
If you would like to talk to a sales representative about a flexible pricing model customised to your needs, please email us today at support@waybiller.com or call at +372 606 8120